Garmin D2 Charlie Titanium Bezel GPS Aviator Watch
$799.00
Luxury Takes Flight with Wrist-worn Precision GPS Mapping
Elegantly crafted GPS aviator watch features a scratch-resistant sapphire lens, diamond-like carbon (DLC) titanium finished bezel and interchangeable watchbands
Aviation functions include full-color dynamic moving map, GPS navigation, NEXRAD weather display³, airport information and automatic flight logging
Smart notifications¹ help you keep in touch, while sport watch functions offer wrist-based heart rate², activity profiles, fitness tracking¹ and more
Dedicated Direct-to and Nearest buttons plus enhanced flight planning capability allow you to easily build/modify flight plans and transfer to the Garmin Pilot™ app
Includes baro-adjustable altimeter, compass with HSI, Zulu/UTC time reference, timers/alerts and more
Battery life: up to 12 days in smartwatch mode (depending on settings), up to 20 hours in GPS mode or up to 35 hours in UltraTrac™ battery saver mode
Ordinary watches have a movement. Revolutionary watches start a movement. Welcome to the revolution in global flight navigation, sparked by the D2 Charlie aviator watch.
With a rich array of color mapping, weather, waypoint reference and flight logging features, D2 Charlie sets the standard for on-wrist situational reference and backup navigation in your cockpit. You can pan and zoom the watch's moving map to quickly expand your view of airports, waypoints, terrain, obstacles or weather activity along your route of flight. Wherever you travel, smart notifications¹ (emails, text messages, alerts and more) can display on the watch to help you stay in the know while on the go. And between flights, you can use the latest sport watch features — including Elevate™ wrist-based heart rate monitoring¹, daily activity tracking¹, training metrics and more — to keep up with your personal fitness goals.
Premium Materials, Elegant Style
Crafted of premium-grade materials and featuring a titanium bezel with diamond-like carbon (DLC) finish, the D2 Charlie aviator watch is available in 2 distinctive versions. One features a vintage-style leather band, and the other sports a deluxe brushed titanium bracelet. Each watch has a bright, high-resolution, full-color Garmin Chroma Display™ with LED backlighting to assure great readability in all lighting conditions. For added scratch resistance, both versions incorporate a high-strength domed sapphire lens. QuickFit® bands let you reconfigure the watch for any occasion, activity or adventure — no tools required. And you can further customize the look with free watch faces, photos, apps and data fields, available from our Connect IQ™ online store.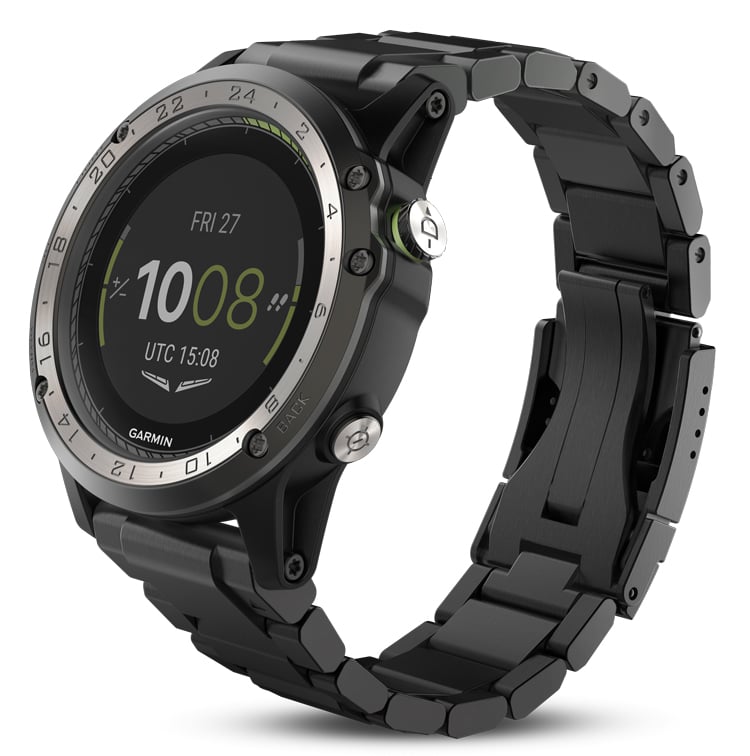 Detail-rich Moving Map
In aviation mode, the D2 Charlie watch's detailed moving map display and extensive databases help you visualize your flight path in relation to nearby navaids, airports, intersections and VFR reference features such as roads, cities, bodies of water and more. Enhanced Direct-to capabilities allow you to add multiple waypoints and fly a Direct-to course to any waypoint in your flight plan. And while in flight, you can view your route on the GPS-referenced dynamic map display — or follow the HSI course needle to your destination. By setting your own waypoints, you can also navigate easily to any location not included in the database. In fact, you can even create Mark on Target waypoints to easily reference — and return to — locations over which you've flown. There's also a dedicated Nearest button on the watch that will locate the closest airport if you need to land quickly for a mechanical issue, weather precaution or passenger emergency.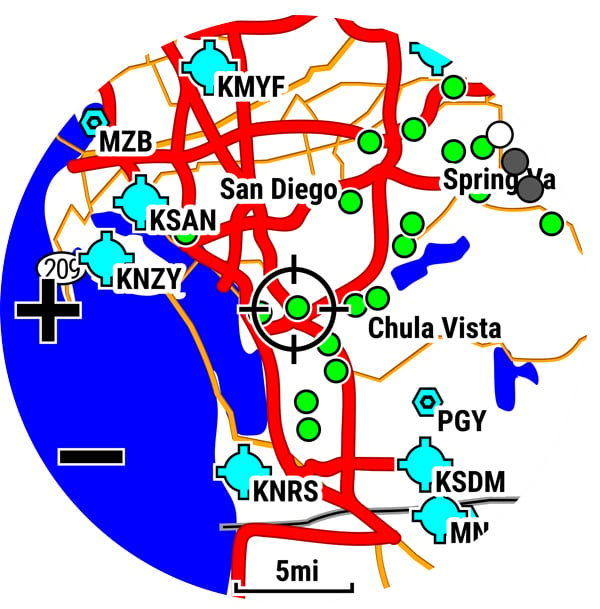 Weather with Radar Overlay
For at-a-glance updates on the weather for your departure airport, your destination airport or anywhere in between, D2 Charlie works wirelessly with your compatible smartphone to keep you informed. You can access location-based meteorological reports (METARs) and terminal forecast (TAF) information — including winds, visibility, precipitation, cloud cover, temperature, dew point, barometric pressure and more. A quick "hot key" shortcut — pressing Direct-to and Down keys — brings up high-resolution radar graphics (NEXRAD)³, overlaid on the moving map. So, you can easily access the data you need for weather trend awareness and smart preflight decision making.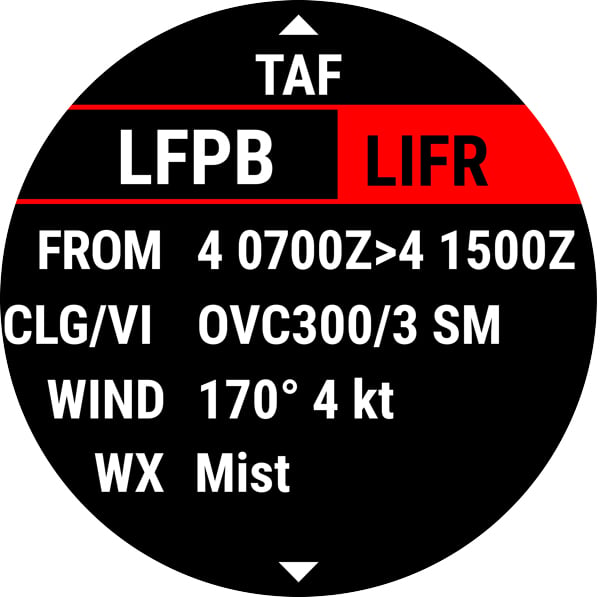 Flight Logging Is Automatic
With wireless connectivity to your smartphone, the D2 Charlie series can make quick work of flight logging and other record keeping tasks. During takeoff, the watch will detect your aircraft's change in altitude and automatically initiate the logbook function — recording date, duration, total flight time and route. Then after your flight is complete, it will sync this logbook data via your smartphone to flyGarmin.com and the Garmin Pilot app.
Your Flight Planning Connection
In addition to creating waypoints and routes on your watch, you can easily use Connext® wireless technology to transfer and sync flight plans from your iPad® tablet or other compatible mobile device running our Garmin Pilot app. So, your data entry and planning time are kept to a minimum. The watch can also provide GPS position information to compatible Garmin Pilot-equipped devices. What's more, you can connect D2 Charlie via a Wi-Fi® network to wirelessly update the free lifetime databases that come with your watch. A compatible ADS-B "In" device, such as our portable GDL® 39receiver, will further enable the Garmin Pilot app to relay notifications of potential traffic or terrain conflicts — as well as other situational alerts — to your D2 Charlie watch.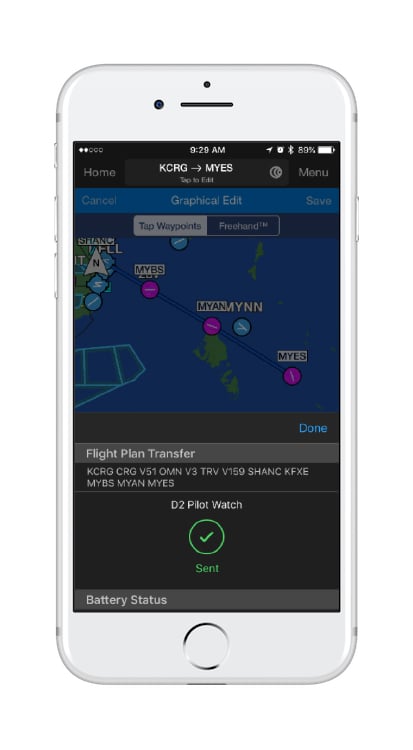 Customizable Features
With its customizable data fields, D2 Charlie makes it easy to access the data that's most important to you — such as current GPS groundspeed, GPS track, distance from waypoints/airports, estimated time en route, bearing, glide ratio and other key flight parameters. A handy altitude alerting feature can be set to notify you when reaching or leaving a preselected altitude. And you can also select a stopwatch function for timing approaches or flight legs. A baro-based O2 Altitude alert feature vibrates to remind you when supplemental oxygen is required at operating altitudes above 12,500'. Plus, various other timer functions with vibrating alerts can be set to let you know when it's time to switch fuel tanks or perform other time-critical tasks.
Advanced Multisport Features
Beyond its full range of flight-related functions, D2 Charlie also offers a complete feature set of sports/training, fitness and outdoor navigation tools. You can tap into an array of physiological metrics, running dynamics, fitness tracking features and more — so you can monitor your workout stats, measure your progress and help avoid injury. Special preloaded activity profiles are provided for golfing, swimming, running, biking, hiking, rowing, skiing and more. Plus, with the free Garmin Connect™ Mobile app, you can download more than 40,000 golf courses worldwide for precise course data, and use your watch as a digital scorecard. For added health and fitness motivation, also download advanced workouts and training plans to your watch from our Garmin Connect™ online community.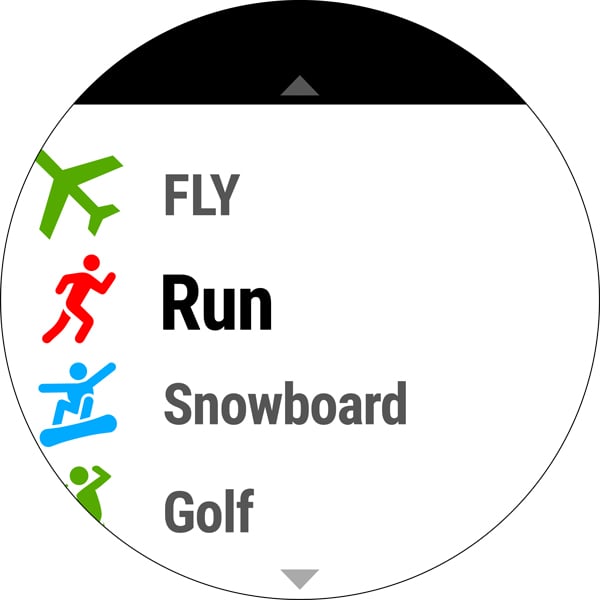 More Ways to Stay Connected
Smart notifications² through the D2 Charlie watch let you leave your phone in your pocket or flight bag — and still quickly screen phone calls, texts and other messages right on your watch. It also gives you access to automatic uploads and social media sharing via Garmin Connect as well as audio prompts, music controls and more. Also, when wirelessly connected to our VIRB® series of HD action cameras, your D2 Charlie watch has the ability to remotely start/stop video, view elapsed time for active recording, and even capture high-quality still photos — while live video is being recorded. You can even simultaneously control multiple VIRB cameras to capture the action from multiple angles.
Ca Residents: Click here for Proposition 65 warning
Simple Returns
If, for whatever reason, you are not satisfied with your purchase, you can return it to HRM USA within 45 days of purchase date subject to conditions below. Claims for items damaged in transit must be received within (3) business days of receipt of merchandise. Refunds & Credits Refunds on returned items will be issued to the same payment as tendered at the time of purchase or store credit. Once we receive and inspect the product you will be issued a credit back to your account. Please allow 5-7 Business days for a credit to appear on your account. If payment was made by check, the refund check will not be issued within 7- 10 business days after receipt of return.
Exchanges
If the item is returned to us for exchange, please allow 2-5 business days for the replacement to be processed and shipped. All returns are shipped with our Economy shipping method and arrive within 2-10 Days.
Conditions
Please read all conditions below. If conditions are not met, HRM USA reserves the right to refuse the return or to charge a restocking fee not less than 10% or a $2.95 minimum charge.

All returned items must be in new condition, in their original unaltered box (including the UPC code being intact) and must include all packing material, blank warranty cards, manuals,and accessories. Defective items may be exchanged for the same model or manufacturer's equivalent model. Please call us at 800-403-8285 for assistance. Please allow time to discuss any issues you may be experiencing as we may recommend tech support to resolve any issues prior to exchange.
No Used Returns/Exchanges on the following
Hydration Packs, Water Bottles once any of the packaging has been opened or safety seals have have been broken.
Computers and Computer Software, once any of the manufacturer's packaging has been opened.
Heating Pads, once safety seal has been broken
Electronic Software is not returnable or refundable once opened.
All consumable items or hygienic items (e.g., Gels, Energy Chomps, Elixirs, etc.) once unwrapped or seal broken.
Special Order merchandise, Clearance, or any item indicated on the website as non-returnable.
Imprinted products.
HRM USA Stores Gift Cards are redeemable for merchandise only and may not be redeemed for cash.
HRM USA is dedicated to always offering the best value to our customers. Unforturnately due to the rising shipping costs, we can no longer offer Free Shipping outside the Continental United States. Orders over $20 that are under 1lb in weight will still ship Free to AK, HI, PR and APO / AE addresses.
Garmin D2 Charlie Titanium Bezel GPS Aviator Watch
has a rating of stars based on reviews.